Contact Us
Lisa Forrest
Development Assistant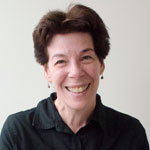 Lisa joined FCNL as Development Assistant in October 2014. She helps FCNL to thank its generous donors, processes their gifts, and is part of the team that keeps the organization's donor database up to date. Born in central Pennsylvania, Lisa came to Washington, DC to attend George Washington University as a theater major, and has been a proud Washingtonian ever since.
She's had a wide-ranging career in the non-profit community, including fundraising positions at some of Washington's leading theaters, its flagship public TV station, The Washington Ballet, and the Historical Society of Washington, DC. Lisa also did some development consulting for a domestic violence service and a women's homeless shelter. Along the way, she squeezed in some professional theater production and casting projects.
Away from FCNL, she can often be found in her kitchen (trying hard to be a better and healthier cook) and at the theater. Lisa's niece Brie is a proud 2014 graduate of Germantown Friends School in Philadelphia, and is thrilled that her aunt is part of the valuable work being done by FCNL.