Meet Some of Our Donors
Here are of some of the people who have made planned gifts to FCNL. Read on to learn their thinking, and consider how it might resonate with your plans for the future.
Kathy Stackhouse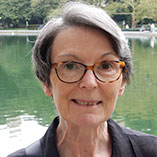 "FCNL showed me I could have a voice and showed me how to use that voice. It welcomes and plants that same seed in so many young people. I can't imagine a better place to invest in the future of our country. That's why I've named FCNL as a beneficiary of my will- FCNL makes a difference."
Katie Breslin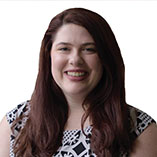 "I don't come from money. It was a scary decision to put FCNL as a beneficiary of my 401(k). But as I thought about the purpose of my 401(k), I thought there might be a bit of money in there for the future of FCNL's young adult program or other programs.
"FCNL gave me my voice when I was finding my faith, finding my role in the Religious Society of Friends, and finding my role in activism. I hope that the money that I will one day contribute to FCNL from my 401(k) can help give someone else a voice."
David and Gloria Mog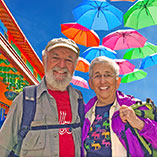 "What my wife Gloria and I love about our charitable gift annuity is that it lets FCNL use the money as they see fit. We get to enjoy watching the good things that the organization is doing, knowing we're helping them in the future, too.
"I've been talking with people about the way we've done it, and the pleasure and satisfaction that it gives us. I really encourage people to consider the charitable gift annuity. We chose to give a flexible gift annuity, where we can decide when to start taking the income payments. We trust that when we need FCNL to turn on that cash stream from the annuity, they're going to be there for us. It not only ties us psychologically to FCNL, it connects us to them daily. We feel as if FCNL is part of our long-term support team."
Sue May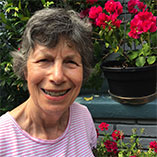 "I chose to include FCNL in my will to underline my commitment. If you're really enthusiastic about FCNL, if you're inspired, as I am, by the wonderful people, the staff, the values, the mission, and the responsiveness to critical legislation—you know it's about even more than speaking up. We don't go in alone. We go in with other people. Naming FCNL in your will is a great way to underline the love and respect that you have for FCNL.
"I've been involved with FCNL for such a long time, it's like family. It's just a way that someday I can say thanks so much and farewell."
Deanne Butterfield and John Huyler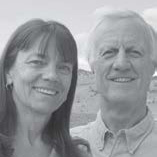 A world free of war and the threat of war. A society with equity and justice for all. A community where every person's potential may be fulfilled. An Earth restored.
FCNL has been faithfully seeking this Quaker vision at the U.S. Congress for over sixty years. We know it will not be achieved in our lifetime, but leaving a bequest to FCNL is a way for our family to ensure that the work can continue well into the future. FCNL has informed, motivated and guided us in our political witness for the last 25 years. It is reassuring to know that we can have a lasting impact on what FCNL will be able to achieve in the future, and that our modest contribution will be part of that legacy.
Rob and Sue Settlage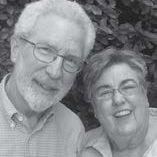 Sue and Rob Settlage's connection to FCNL has grown strong since attending their first Annual Meeting in 1994. "Since then," Sue said, "Our respect for FCNL's work has grown as our involvement and connections have deepened. Our appreciation of the staff grew when our daughter Chrysanthi served as an intern." At that time, Sue continued, "We learned how much effort and time staff invests in interns who do real, meaningful work, with good advice while doing it. We believe that our contributions to that quality intern program have long ranging and lasting effects in our world. This year we found it particularly efficient to use Rob's IRA mandatory distribution as our gift to the FCNL Education Fund."
Ruth Hyde Paine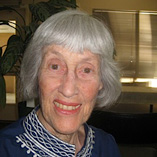 A lifelong advocate and long–time FCNL supporter, Ruth spent 30 years in Florida where she worked with Southeastern Yearly Meeting's Nicaragua project. This work led to many trips to Central America and first-hand knowledge about the flaws in U.S. foreign policy. Ruth reflects, "FCNL has the best chance to influ–ence U.S. foreign policy. It has a good reputation with legislators based on accuracy and integrity, so our voices are heard." In retirement from her career in education, Ruth continues to be active at Friends House, a Quaker-inspired retirement community in Santa Rosa, California.
Ruth has several charitable gift annuities with FCNL, and she uses her charitable giving to reduce the federal taxes she owes. In 2014 Ruth further reduced her taxable income by donating her IRA Required Minimum Distribution directly to the FCNL Education Fund.